Home > WA Certification > Certification Introduction > Definition & Introduction
Definition & Introduction
WA Quality Certification No.1/APP, SW Accessibility Certification & Consulting –WebWatch, Inc
What Is Web Accessibility (WA) Quality Certification?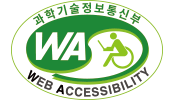 Web Accessibility (WA) Quality Certification is a mark of excellence given to websites that comply with WA standards. These are designed to insure that persons with disabilities and the elderly have equal access to websites and that they experience minimal inconvenience in their use of websites. To receive certification, government organizations, businesses, and other major organizations in society apply for and receive evaluation from a WA quality certification agency designated by the Ministry of Science, ICT and Future Planning in accordance with Article 32 (2) of the Framework Act on National Informatization, and Article 3(3) of the Enforcement Regulation of the same act. Currently, there are three such designated certification agencies, including WebWatch, Inc.


In February 2007, for the first time in Korea, the Human Rights Forum of Persons with Disabilities, our parent company, introduced the "WA Certification Mark." It recognized websites with excellent accessibility for persons with disabilities with the intent of raising public awareness. This became the cornerstone of Korea's WA quality certification program. Since then, WebWatch, Inc. has evaluated and certified websites of not only government and public institutions and agencies, but also major corporations and most financial institutions in Korea.
By 2013 we had certified 800 websites, the highest record among our competitors. We are the leader in this field, recognized by both the government and the civil sector.
Our mission is to provide valuable services to our clients, with fair and transparent evaluation, and to make sure at the same time that the evaluations are carried out rigorously so that persons with disabilities and the elderly may use the websites without inconvenience. Our mission is also to continue to raise WA awareness among public agencies and private corporations alike and to maintain excellence in WA quality in general through continuous monitoring.